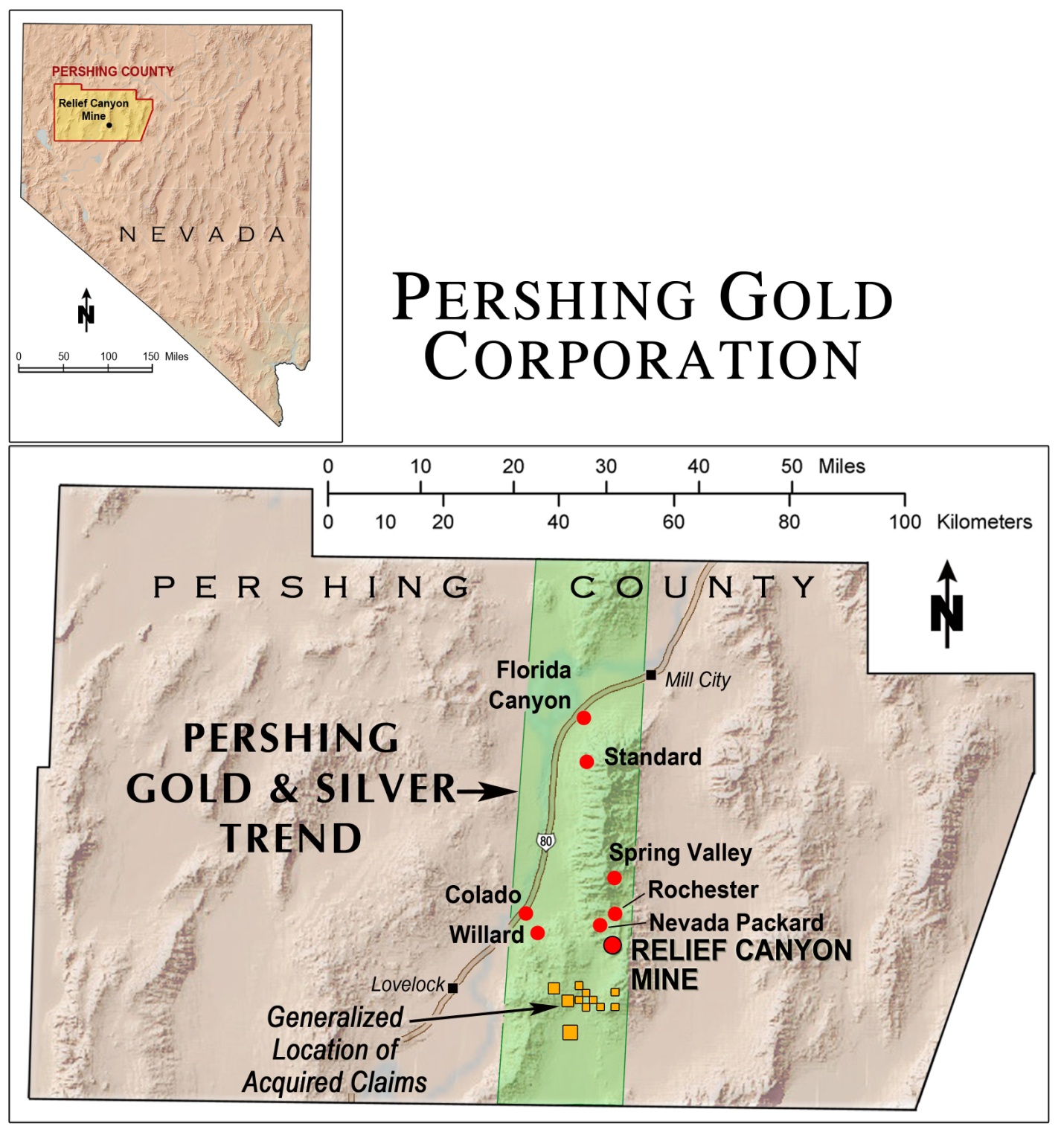 Mar 2, 2012 (GlobeNewswire via COMTEX) — Sagebrush Gold, Ltd. (OTCBB:SAGE) has changed its name to Pershing Gold Corporation , to reflect its focus on Pershing County, NV where its anchor property, the Relief Canyon Mine, is located. Pershing Gold Corporation is also announcing the addition of roughly 9,700 acres of mining claims south of the Relief Canyon Mine to its property assets.
A photo accompanying this release is available at http://www.globenewswire.com/newsroom/prs/?pkgid=11876
In explaining the name change and the newly acquired property, Pershing Gold Corporation's Executive Chairman and CEO, Steve Alfers, said, "Our new name and this land acquisition signal the Company's commitment to this under-explored part of Nevada. We think there is significant growth opportunity in this region both at the Relief Canyon Mine and in the surrounding lands."
Mr. Alfers added, "We intend to expand and upgrade the Relief Canyon resource in order to resume gold production from the mine and the existing processing facilities. At the same time, we will be acquiring and testing new, nearby gold targets. The claim block we just acquired is our first move to build a land position that controls the southern portion of the Pershing Gold and Silver Trend. This trend includes a number of gold and silver deposits, and includes producing mines like Rochester and Florida Canyon and new gold discoveries like Spring Valley.
About Pershing Gold Corporation
Pershing Gold Exploration is a new gold exploration and development company focusing on acquiring, exploring, and developing gold deposits in Pershing County and elsewhere in Nevada. The Company controls the Relief Canyon Mine in Pershing County through its wholly owned subsidiary, Gold Acquisition Corp.
Legal Notice and Safe Harbor Statement
This press release contains "forward-looking statements" within the meaning of Section 27A of the Securities Act of 1933 and Section 21E of the Securities Exchange Act of1934. All statements, other than statements of historical fact, including, without limitation, those with respect to the objectives, plans and strategies of the Company set forth herein and those preceded by or that include the words "believes," "expects," "given," "targets," "intends," "anticipates," "plans," "projects," "forecasts" or similar expressions, are "forward-looking statements." Although the Company's management believes that such forward-looking statements are reasonable, it cannot guarantee that such expectations are, or will be, correct. These forward-looking statements involve a number of risks and uncertainties, which could cause the Company's future results to differ materially from those anticipated. Potential risks and uncertainties include, among others: general economic conditions and conditions affecting the industries in which the Company operates; the uncertainty of regulatory requirements and approvals; fluctuating mineral and commodity prices; risks of junior exploration and pre-production activities; maintenance of important business relationships. Additional information regarding the factors that may cause actual results to differ materially from these forward-looking statements is available in the Company's filings with the SEC including the Annual Report on Form 10-K for the year ended December 31, 2010 and Quarterly Report on Form 10-Q for the quarterly periods ended June 30, 2011 and September 30, 2011, and each subsequently filed Current Report on Form 8-K. The Company assumes no obligation to update any of the information contained or referenced in this press release.
The photo is also available at Newscom, www.newscom.com , and via AP PhotoExpress.
This news release was distributed by GlobeNewswire, www.globenewswire.com
SOURCE: Pershing Gold Corporation